Statistics Virtual Front Desk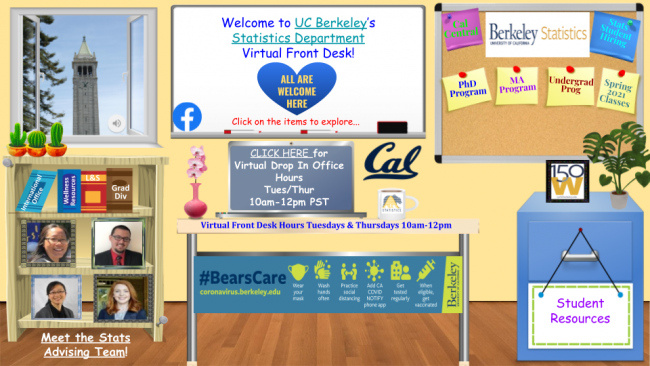 (Click on the above to find the academic resources you need and access the VFD during open office hours) 
Our Virtual Front Desk (VFD) is open for drop in office hours! The goal is to support students and the wider campus community to navigate which members in the department to contact with their questions or concerns. Under the direction of the Statistics Advising Team, our VFD will be operated by our Work-Study Student Assistant: Jessica Co.
The Statistics Virtual Front Desk can help you with any of the following:
Answering general questions about Statistics advising and program services
Direct you to the appropriate department member or campus office for your questions
Guidance on whether it is necessary to make an appointment with a Stats advisor
General course and enrollment questions
General graduate admissions questions
Virtual Front Desk hours
Spring 2021 semester (1/26/21 through 5/7/21):
Tuesdays and Thursdays 10 a.m - 12 p.m. (PST)
How to access the Virtual Front Desk
During open hours, click on the following link for the Statistics Department Virtual Front Desk. You will enter the Zoom online waiting room and when the work study assistant becomes available, you will be admitted for a one-on-one meeting.