Awards, Honors, and Service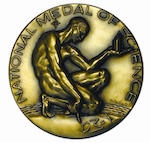 Our faculty have always been at the leading edge of statistical research, with 2 National Medal of Science winners, 14 members of the National Academy of Science, multiple members of the American Academy of Arts and Sciences, Guggenheim Fellows, MacArthur Fellowship ("Genius Grant") winners, and Sloan Fellows, to name just some of the awards held by our esteemed faculty.
In 2018, UC Berkeley opened Blackwell Hall, a residence hall for new freshmen located on Bancroft and Dana, named after David Blackwell, one of the department's ten founders and also the first Black professor to ever receive tenure at UC Berkeley. Learn more about Blackwell Hall.
This page summarizes some of the main awards received by the Statistics Department faculty members. 
Awards of a national and/or interdisciplinary nature.
National Medal of Science

Jerzy Neyman (1968) ("For laying the foundations of modern statistics and devising tests and procedure that have become essential parts of the knowledge of every statistician.")
David Blackwell (2012) a posthumous award

National Academy of Sciences

David Blackwell (1965)
Leo Goodman (1974)
Erich Lehmann (1978)
Peter Bickel (1986)
Charles Stone (1993)
Kenneth Wachter (1999)
Leo Breiman (2001)
David Freedman (John J. Carty Award for the Advancement of Science, 2003)
David Aldous (Foreign Associate, 2010)
Michael Jordan (2010)
Bin Yu (2014)
Steve Evans (2016)
Jennifer Chayes (2019)
Rasmus Nielsen (2022)

National Academy of Medicine

Nicholas P. Jewell (2017)

National Academy of Engineering

American Academy of Arts and Sciences Fellows

David Blackwell (1969)
Leo Goodman (1973)
Erich Lehmann (1975)
Peter Bickel (1986)
David Freedman (1991)
David Brillinger (1993)
Ken Wachter (1996)
David Aldous (2004)
Michael Jordan (2011)
Bin Yu (2013)
Jennifer Chayes (2014)

MacArthur Fellows

Guggenheim Fellowships

John Simon Guggenheim Memorial Foundation

Erich Lehmann (1955, 1966, 1979)
Leo Goodman (1959)
Peter Bickel (1970)
David Brillinger (1975,1982)
Chuck Stone (1980)
Bin Yu (2006)

Sloan Research Fellowships

Jennifer Chayes (1989)
Steve Evans (1993; Mathematics)
Elchanan Mossel (2005; Mathematics)
Martin Wainwright (2005; Computer Science)
Sourav Chatterjee (2007; Mathematics)
Noureddine El Karoui (2008; Mathematics)
Yun S. Song (2008; Molecular Biology)
Benjamin Recht (2012; Mathematics)
Allan Sly (2012; Mathematics)
Shirshendu Ganguly (2019; Mathematics)
Rasmus Nielsen (2004)

Packard Fellowship for Science and Engineering

Australian National Health and Medical Research Council Award for Excellence in Health and Medical Research

Victoria Prize for Science and Innovation

Australian Prime Minister's Prize for Science

CSIRO Eureka Prize for Leadership in Science

Presidential Early Career Award for Scientists and Engineers (PECASE)

Philip Stark (1989-1995)
Ben Recht (2013)

Jerome Sacks Award

William R. Kenan, Jr. Visiting Professorship for Distinguished Teaching

John von Neumann Medal

SIAM John von Neumann Lecture Award 
Awards and honors more specifically related to Statistics and associated academic fields.
Institute of Mathematical Statistics (IMS) Presidents

Jerzy Neyman (1949)
David Blackwell (1956)
Erich Lehmann (1961)
Lucien Le Cam (1973)
Elizabeth Scott (1978)
Peter Bickel (1981)
David Brillinger (1995)
Terry Speed (2004)
Jim Pitman (2007)
Bin Yu (2014)

Committee of Presidents of Statistical Societies (COPSS) Awards

Peter Bickel (1981)
David Donoho (1994)
Mark van der Laan (2005)
Martin Wainwright (2014)

R. A. Fisher Lectureship [On statistical methods for scientific investigation]

Leo Goodman (1968)
David Blackwell (1986)
Erich Lehmann (1988)
David Brillinger (1991)
Terry Speed (2006)
Peter Bickel (2013)

F.N David Award [For female role model in statistics profession]

George W. Snedecor Award [For recent publication in biometry]

Nick Jewell and Mark van der Laan (2005)

Distinguished Achievement Award and Lectureship 

Emerging Leader Award 

Peng Ding (2023)
Avi Feller (2023)

ASA Awards

Noether Senior Scholar Award [For Nonparametric Statistics].

Outstanding Statistical Application Award [For a paper in the last two years]

Wilks Memorial Award [For lifetime contribution to Statistics in broad sense]

Jerzy Neyman (1968)
Leo Goodman (1985)
Erich Lehmann (1996)

IMS Awards

Probability prizes

IMS Special Lectures

Rietz Lectures

Neyman Lectures

Grace Wahba Award and Lecture

Bernoulli Society Special Lectures

Elected Fellowships in Professional Organizations

David Aldous
Peter Bartlett
Peter Bickel
David Brillinger
Ching-Shui Cheng
Sandrine Dudoit
Noureddine El Karoui
Steve Evans
David Freedman
Leo Goodman
Alan Hammond
Haiyan Huang
Martin Wainwright
Michael Jordan
Michael Klass
Deborah Nolan
Jim Pitman
John Rice
Terry Speed
Bin Yu
Nicholas P. Jewell

Peter Bickel
David Brillinger
Ching-Shui Cheng
Sandrine Dudoit
David Freedman
Leo Goodman
Haiyan Huang
Michael Jordan
Deborah Nolan
John Rice
Julie Shaffer
Terry Speed
Philip Stark
Bin Yu

AMS Fellows

David Aldous (2012 - Inaugural class)
Steven N. Evans (2012 - Inaugural class)
David Goldschmidt (2012 - Inaugural class)
Charles J. Stone (2012 - Inaugural class)
Bernd Sturmfels (2012 - Inaugural class)

IEEE Fellows

IOP Fellows

SIAM Fellows

Peter Bickel (2009 - Inaugural class)
Michael Jordan (2012)

(From Mathematical Optimization Society)

Royal Society of London Fellows

David Aldous (1994)
Terry Speed (2013)
Michael Jordan (2021)

Royal Society of Canada Fellows

Putnam Fellow

NAE Fellows

For contributions to public health (under age 40).

At Harvard Biostatistics (15 years from Ph.D.)

At University of Rochester.

For best paper in the Canadian Journal of Mathematics.

John von Neumann Medal (IEEE)

E.L. Scott COPSS Award (IMS)

Nathan Manel Award (ASA)

Ulf Grenander Prize in Stochastic Theory and Modeling (AMS)

Vannevar Bush Faculty Fellowship

Michael Jordan (2021-2026)

Chan-Zuckerberg Biohub Investigator Award

John Gideon Award for Election Integrity

Leamer-Rosenthal Prize for Transparency in Social Sciences
Awards bestowed on faculty members by the Berkeley campus.
Distinguished Teaching Award

The Distinguished Teaching Award is for excellence in teaching.

Deborah Nolan (1997)
Ani Adhikari (2006)

Distinguished Research Mentor / Distinguished Faculty Advisor

Deborah Nolan (2004)

Miller Research Professorship

Erich Lehmann (1962)
David Brillinger (1973)
Peter Bickel (1979)
David Freedman (1990)
David Aldous (1993)
Philip Stark (1999)
Michael Jordan (2008, 2017)
Steve Evans (2002)
Yuval Peres (2002)
Bin Yu (2004, 2016)
John Rice (2005)
Terry Speed (2005)

Berkeley Citation

The Berkeley Citation is given for exceptional scholarship and (especially) exceptional service to Berkeley. Given only upon retirement.

Erich Lehmann (1988)
David Blackwell (1988)
Joe Hodges (1991)
Lucien Le Cam (1991)
Leo Breiman (1993)
Peter Bickel (2006)
Bin Yu (2018)

Faculty Research Lectures

Faculty Research Lectures are given by one or two faculty members who are distinguished for his/her scholarly research. Lecturers are elected by the Academic Senate.

Terry Speed (2012)
David Blackwell (1971)

UC Berkeley Faculty Service Award

Nicholas P. Jewell (2013)

UC Berkeley Chancellor's Award for Public Service for Research in the Public Interest

UC Berkeley Chancellor

Albert Bowker (1971-1980)