How do I print to the Xerox copiers?
It is possible to print to the Xerox copiers in the mail room just as you would print to any other departmental printer. All documents you print this way will count towards your copier page total.
Obtain a Copier ID
You will need to have a copier User ID created for you before you can use the copiers. If you already have a code for making copies and scanning to email, you can reuse this for printing. Please see the the front office manager in 367 for this.
From the Web
Image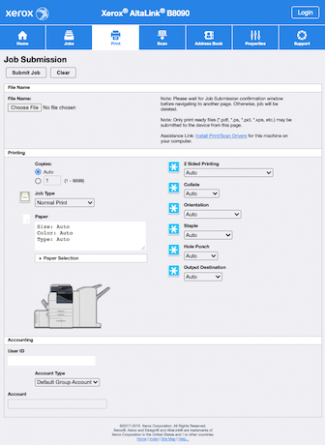 The Xerox AltaLink B8000 copiers have web interfaces where you can upload your document to print. Your file will need to converted to a print ready file format such as PDF or PostScript. All Macs have built-in print-to-PDF capability. Visit either copier's web page linked below, upload your document, set your print job's parameters, enter your copier account credentials, then click Submit Job at the top.
From a non-departmental computer
If you want to print to the copiers from your personal computer by using the native print capability, you will need to download and install Xerox drivers, then create a print queue.
When installing the driver, the software may try to automatically find the Xerox copiers on the network and install the print queue for you. You can click on a button, usually the right-most of three large square buttons, to specify one of the Xeroxes above.
If the driver installer did not create the queue, you will need to do this manually. On a Mac visit System Preferences > Print & Fax to add a printer. On a Windows computer, visit the Control Panel > Printers. The network addresses are x1.stat.berkeley.edu and x2.stat.berkeley.edu.
Once you have added the queue, you will need to configure it with your copier ID.
You will need navigate to where you can enter your ID.
macOS
Choose the desired Xerox copier from the standard print dialog window, e.g. File > Print, when you first need to print.
Find the print options pop-up menu (usually set to Layout on first viewing) and select Xerox Features and then Advanced. Click the Accounting... button.
Once you've navigated to the correct area, enter the settings below:
Accounting System: Xerox Network Accounting.
Under Use Default Accounting Codes, set your Default User ID to your personal copier user ID and Default Account ID to 1.

The print dialog box should resemble what you see here:
If you frequently print to the Xerox copiers, you may find it inconvenient to have to enter the User ID and Account ID every time you print. If so, you can save that information to a printer "Preset" that can be automatically applied whenever you use the Xerox. Fill in the accounting information as specified above, but before you finish and click Print, do the following:
macOS
Click the pop-up menu next to Presets.
Choose Save Current Settings as Preset....
In the dialog window that pops up, assign a name to the Preset such as "Xerox with Account ID". Next to Preset Available For choose Only this printer.
Click OK. Whenever you want to print without having to enter your User and Account IDs, just make sure to select the preset in the Presets pop-up menu.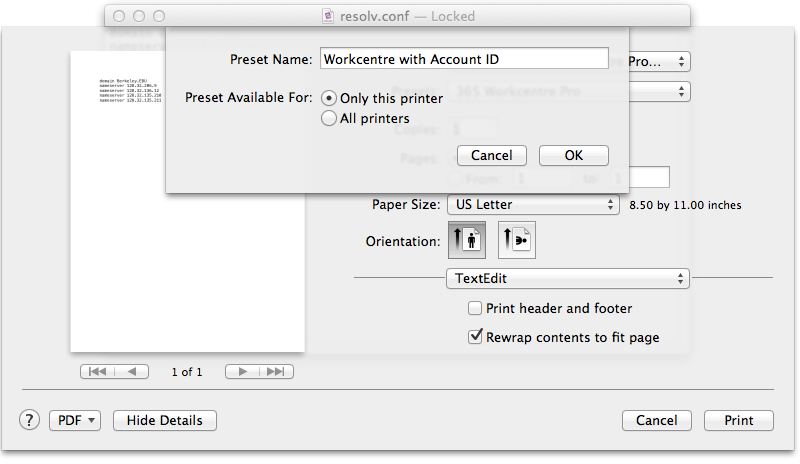 Troubleshooting
If the Xeroxes accept your job but do not want to print it, and cite resource constraints with any or all of the paper trays, your document might not be formatted for 8.5"x11" paper. On macOS in Preview, you can see the size of the document under Tools > Show Inspector. You can often reformat your document to an acceptable print size by printing it to PDF. You can then upload that PDF to the copiers.