Florence Nightingale (F.N.) David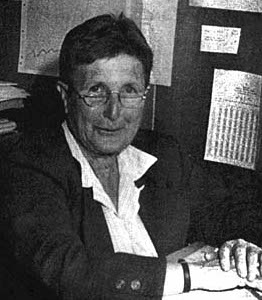 Florence Nightingale (F.N.) David was an internationally acclaimed statistician and professor emeritus in the Department of Statistics at UC Berkeley. David's research resulted in advances in combinatorics, including a clear exposition of complicated methods. She studied the correlation coefficient and computed solutions of complicated multiple integrals using the distribution of the correlation coefficient.
She is the author of 10 books, two monographs, and over 100 papers in scientific journals. Many of these are still actively referred to today. David's research and innovation, and trailblazing as a woman in statistics, were highly regarded. This is evidenced by her numerous awards and accolades. She was elected as a Fellow of the American Statistical Association and  a Fellow of the Institute of Mathematical Statistics. She won the first Elizabeth L. Scott Award for her efforts in opening the door to women in statistics, and in 2001 the Florence Nightingale David Award was established in her honor. 
David once had this to say about the state of affairs of women in academia, "I always say, 'Well, in my day you had to do 200% better than the nearest man they could possibly give the job to before you got it.' Now I think it's come down to about 150%. But I still think there is prejudice. There always will be."
Born in England, she began making regular visits to the United States in the late 1950s, principally as Visiting Professor and Research Statistician at UC Berkeley with the Department of Statistics, and Applied Climatology and Forestry Divisions. She permanently moved to the United States in the 1960s to become a professor. In 1970 she was selected as the chair of the Department of Statistics at the University of California, Riverside, and was the book review editor for the journal Biometrics for four years. 
After retiring from UC Riverside in 1977 she moved to Berkeley where she continued to be an active Professor Emeritus and Research Associate in Biostatistics until her passing in 1993. Although David's contributions to statistics will be remembered for a lifetime, she was not focused on the influence of her work. When asked if she was perceived as influential during her time at UC Riverside she said, "Oh, I think I was. But I don't think my job in life is to be influential. Rather it was her job in life to "ask questions and try to find the answers." 
David was born in Ivington, England, and named for Florence Nightingale, the English founder of modern nursing and a friend of David's parents. David's mathematical training began at an early age in Ivington She previously shared, "I was born in 1909 which would make me five when the first World War broke out, and we lived in the country. I went to do private lessons with a British parson who said, 'Well, you'll of course have to know arithmetic so you better start on algebra. And you can speak English so you'd better start on Greek and Latin.' So I learned Greek, Latin, and algebra." She died in 1993.
She received her BS in Mathematics in 1931 from Bedford College for Women. Shortly afterward, she became a Research Assistant to Karl Pearson at University College, and then she was appointed Assistant Lecturer in the Statistics Department, University College, London. She went on to receive her doctorate in Statistics from University College. 
~ Lauren Pitcher 
References
"A Conversation with F.N. David," Statistical Science
"Florence Nightingale David," Wikipedia 
"Dr. Florence N. David, Statistician, Dies at 83, New York Times