Alum Profile: Maxwell Weinstein '18, Director of Baseball Innovation for the Los Angeles Dodgers
A southern California native, Maxwell Weinstein '18, has had a lifelong love of numbers and his hometown Los Angeles Dodgers. Even as a child, Weinstein knew he wanted to find a way to make it to the big leagues. Today he serves as Director of Baseball Innovation for the Los Angeles Dodgers.
"Baseball is my first love, and statistics is my second. They have flipped a few times."
While still a high school and college student, Weinstein authored blogs for popular sports sites like Fangraphs, which focus heavily on baseball's statistical and analytic elements. Even then, he started to focus on math as a tool to help him study the game. 
"The research questions I wanted to ask in baseball can only be answered with higher-level statistics."
Berkeley stood out when he began considering the college where he could study statistics. Weinstein focused closely on statistics once he started his first year and had completed most of the prerequisites by the time he began his second year.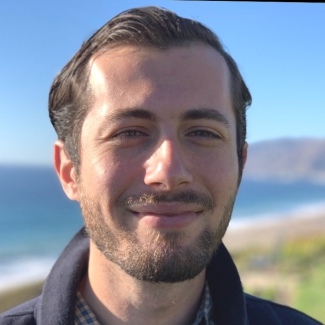 "I had a head full of steam going into Berkeley Stats."
A stellar student, he was in the pilot course of Data 101 and was asked to help develop the curriculum for other classes. He also served as a Teacher's Assistant (TA). Weinstein was also part of the group that founded the Sports Analytics Group at Berkeley (SAGB). A student-run organization, SAGB, gives members a full experience doing accurate sports analytics via consulting and research. It is one of the most popular student-run organizations at Berkeley.
Weinstein's data-driven approach to baseball quickly got him noticed by pro teams, and he was hired by the Milwaukee Brewers while still a student at Berkeley. Weinstein would finish spring classes and immediately travel to Milwaukee for summers to help build their fledgling analytics department under recently hired General Manager David Stearns. Before his senior year, he moved to his hometown Los Angeles Dodgers.
"Berkeley Statistics allowed me to reverse engineer the skills I needed to be a good baseball analyst," he said. "I was lucky enough to have that vision at a young age. I was lucky to have opportunity after opportunity. I was lucky enough to get into Berkeley, where I was given a really good statistical education in both theory and application."
Weinstein's role with the Dodgers directs collaboration across departments and extracts new metrics from proprietary data sources. Using player tracking and biomechanics data, Weinstein works with experts to derive statistical measures that predict player talent. He must work with personnel throughout the team, including scouts, strength and conditioning staff, and coaches. 
"Everyone is using the same data across baseball," said Weinstein. "My job is to find the team an edge and make our decision-making process more efficient."
Weintein's ascent in pro baseball is part of a shift in the game to focus data as a critical decision-making tool. Data analytics has come into the forefront of professional baseball, starting with the "Moneyball" approach popularized by the Oakland A's and general manager Billy Beane in the early 2000s. Statistics have always been a vital element of the game, but only in the last few decades has the data been harnessed to evaluate players and advise in-game strategy. 
Despite working in professional baseball for over five years, Weinstein only recently had what he describes as his "big league moment" this season when he traveled with the team and worked with the scouting department from the dugout against the Pittsburg Pirates. 
"I was lucky enough to have Statistics Professors that really cared about teaching and that instilled a lot of different interests that I have."
-Alex Coughlin