In Memory of David Blackwell
Image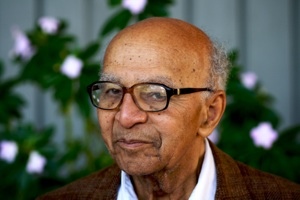 Emeritus Professor David Harold Blackwell passed away peacefully in Berkeley July 8, 2010. Professor Blackwell was born in Centralia, Illinois on April 24, 1919. Throughout his academic career he was a most distinguished teacher and researcher. He taught at Howard University for ten years before coming to Berkeley in 1955. At Berkeley he had appointments in both the Mathematics and Statistics departments. He became Emeritus Professor in 1989. Professor Blackwell will be missed by many communities.
A memorial event will be held to honor and celebrate his life on Friday, October 15, 2010 at 4pm in the International House of UC Berkeley on 2299 Piedmont Avenue, Berkeley, CA 94720.
Parking
Parking on the UC Berkeley campus is very difficult. In non-metered areas, street parking is free. Meters are free with a California disabled placard.
Underhill Lot: $2 per hour. Located at the corner of Channing and College, this lot is a 5-10 minute walk from I-House. The campus shuttle (R line) runs from Underhill 
Prospect Court Lot: 50 cents per half hour. Located up the hill and behind I-House, a short but steep walk. From Piedmont Ave. One block south of International House, turn east on Channing, left on Prospect, and enter the lot.  
Boalt Law School Lot: $1 per hour. This is the closest public parking to I-House. From Hearst Ave., turn right on Gayley. Immediately past the Haas School of Business, turn right and then left into the lot. Open to the public after 5 pm. 
Kroeber Lot (Tennis Courts): $3 for the first hour. Close to I-House. Located on Bancroft, across the street from the Berkeley Art Museum.
Other Links