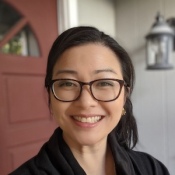 Denise Yee
Undergraduate Student Services Advisor & Course and Curriculum Officer
Office / Location
369 Evans Hall (not applicable while working remotely)
I am one of two Undergraduate Student Services Advisors/Course and Curriculum Managers who is responsible for undergraduate student affairs including major and minor advising, course scheduling, enrollment management, and curriculum management. I grew up in South San Francisco (the Industrial City) and currently live in Petaluma, CA.
Fall 2023 Normal Work Schedule:
|   | Monday | Tuesday | Wednesday | Thursday | Friday |
| --- | --- | --- | --- | --- | --- |
| Evans Hall | n/a | n/a | 9:30am-6:00pm | 9:30am-6:00pm | 9:30am-6:00pm |
| Remotely | 9:30am - 6:00pm | 8:00am-5:00pm | n/a | n/a |   |
| Lunch | 12:30-1:00pm | 12:00-1:00pm | 12:30-1pm | 12:30-1pm | 12:30-1pm |
Please click here for an up-to-date schedule, office hour, and vacation calendar (you must be logged in with your Berkeley account).
Upcoming Holidays, Vacation Days and Alternative Schedules:
Alternative Schedules
Wed, Aug 16, 2023: Remote 6:30-7:30am, 8:30am-4pm (lunch 12-12:30pm)
Mon, Aug 21st: 

On Campus 9:30am-6pm (lunch 12-12:30pm)

Wed, Aug 23rd:

Remote 6-7am, 5pm-7pm, 

On Campus 9:30am-3:15pm

(lunch 12-12:30pm)
Undergraduate Advising: Undergraduate Students should refer to the Statistics Advising Calendar for advising hours and how to sign up for drop-in hours or book an appointment through Calcentral. During the first 2 weeks of the semester, remote drop-ins are available. In-Person Appointments will become available during the 3rd week of the semester. Students in vastly different time zones may email stat-ugrad@berkeley.edu to request an appointment at alternative times.