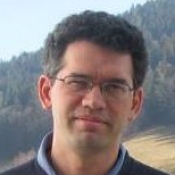 Noureddine El Karoui
Professor
Status
Past (or Inactive)
Office / Location
311 Evans Hall
Email
nkaroui@berkeley.edu
Research Expertise and Interests
high-dimensional statistics, random matrices, high-dimensional robust regression, high-dimensional M-estimation, the bootstrap and resampling in high-dimension, limit theorems and statistical inference, applied statistics, auction theory from the bidder standpoint, fairness, market design, control, reinforcement learning, statistics/ML/AI at industrial scale, design of experiments, game theory
In recent years I have worked as a Principal Researcher at Criteo AI Lab and a Principal Staff Software Engineer at LinkedIn.
My research interests include/have included high-dimensional statistics, random matrices, high-dimensional robust regression, high-dimensional M-estimation, the bootstrap and resampling in high-dimension, limit theorems and statistical inference, as well as applied statistics and connections to Finance. I am currently also working on auction theory (especially from the bidder standpoint), fairness in Machine Learning, Market Design, control, learning to rank, and reinforcement learning. I am especially interested in industrial-scale statistics/machine learning/AI, opportunities and limitations therein, and connections to Economics.
I am a recipient of a Sloan Research Fellowship (Mathematics), an IMS Fellowship, and was an invited speaker at the 2018 International Congress of Mathematicians (ICM; probability and statistics section). My research has been supported by NSF grants (including a CAREER grant) and a Sloan research fellowship. I am grateful for their support.
Brief bio:
I did my undergraduate studies at Ecole Polytechnique, in France, majoring in Applied Mathematics. I then studied at Stanford, where I got a PhD in Statistics (co-advised by David Donoho and Iain Johnstone) and a Master's in Financial Mathematics. After my Phd, I did a 1-year post-doc in genetic epidemiology (advised by Alice Whitemore) and then joined UC Berkeley.
Select Publications
 Tracy-Widom limit for the largest eigenvalue of a large class of complex sample covariance matrices,The Annals of Probabililty,35(2): 663--714, March 07
 A rate of convergence result for the largest eigenvalue of complex white Wishart matrices, The Annals of Probability, 34(6):2077--2117, November 06
 Recent results about the largest eigenvalue of random covariance matrices and statistical application, Acta Physica Polonica B, 36(9):2681-2697, September 2005
 Getting more from digital SNP data (With Wei Zhou and Alice Whittemore),Statistics in Medicine     25:3124-3133, September 2006
 On the largest eigenvalue of Wishart matrices when n,p and p/n tend to infinity, Unpublished, Available on arxiv.org
 Spectrum estimation for large dimensional covariance matrices using random matrix theory, Annals of Statistics, 36(6): 2757-2790, December 2008
 Operator norm consistent estimation of large dimensional sparse covariance matrices, Annals of Statistics, 36(6): 2717-2756, December 2008
 Concentration of measure and spectra of random matrices: applications to correlation matrices, elliptical distributions and beyond, Annals of Applied Probability, 19(6):2362-2405, December 2009
 The spectrum of kernel random matrices, Annals of Statistics, 38(1): 1-51, February 2010
 High-dimensionality effects in the Markowitz problem and other quadratic programs with linear constraints: risk underestimation, Annals of Statistics, 38(10):3487–3566, December 2010
 On information plus noise kernel random matrices, Annals of Statistics, 38(10):3191–3216, October 2010
 Chapter « Random matrix Theory », Encyclopedia of Quantitative Finance, Publisher : Wiley, Editor : Rama Cont
 Chapter « Multivariate Statistics », Handbook of Random Matrix Theory, Publisher: Oxford; Editors: G. Akemann, J. Baik,, P. Di Francesco
 On the realized risk of Markowitz portfolios, SIAM Journal on Financial Mathematics
 Second order accurate distributed eigenvector computation for extremely large matrices (with Alexandre d'Aspremont), Electronic Journal of Statistics, 4(2010), 1345-1385
Geometric sensitivity of random matrix results: consequences for shrinkage estimators of covariance and related statistical methods, (with Holger Koesters); under revision (67 pages)
 Weak  recovery conditions from graph portioning bounds and order statistics (with Alexandre d'Aspremont), Mathematics of Operations Research, 38,(2); 228-247, May 2013
 On robust regression with high-dimensional predictors (with Bean, Bickel,Lim and Yu), PNAS, 2013 110 (36) (August, 2013) 14557-14562
 Penalized robust regression in high-dimension (with Bean, Bickel, Lim, Yu). Tech report 813 (2011)
 Optimal M-estimation in high-dimensional regression (with Bean, Bickel and Yu), PNAS, 2013 110 (36) (August, 2013) 14563-14568
 Optimizing Automated Classification of Periodic Variable Stars in New Synoptic Surveys (with Long (1st author), Rice, Richards, Bloom), Publications of the Astronomical Society of the Pacific, 124 (913); March 2012, 280-295
 Estimation error reduction in portfolio optimization with Conditional Value-at-Risk (with Andrew Lim and Gah-Yi Vahn), 2nd round of revision, Management Science (33 pages)
A stochastic smoothing algorithm for semi-definite programming (with Alexandre d'Aspremont), SIAM Journal in Optimization 2014, 24 (3), pp. 1138-117
 Asymptotic behavior of unregularized and ridge-regularized high-dimensional robust regression estimators : rigorous results; Arxiv: 1311.2445
Random matrices and high-dimensional M-estimation: applications to robust regression, penalized robust regression and GLMs (Video; Harvard Applied Math Colloquium, March 2014)
 Vector diffusion maps and random matrices with random blocks (with Hau-tieng Wu);  Information and Inference (arXiv:1310.0188)
 Kernel density estimation with Berkson error (with Long(1st author) and Rice); Submitted  (arXiv:1401.3362)
Graph  Connection Laplacian methods can be made robust to noise (with Hau-tieng Wu); To appear in Annals of Statistics (arXiv:1405.6231)
Can we trust the bootstrap in high-dimension? The case of linear models (with Elizabeth Purdom); JMLR
On the impact of predictor geometry on the performance of high-dimensional ridge-regularized generalized robust regression estimators; PTRF
The bootstrap, covariance matrices, and PCA in moderate and high-dimensions (with Elizabeth Purdom); Submitted
Explicit shading strategies in repeated truthful auctions (with Abeille, Calauzenes, Nedelec, Perchet)
Thresholding the virtual value: a simple method to increase welfare and lower reserve prices in online auction systems (with Nedelec, Abeille, Calauzenes, Heymann, Perchet)
Asymptotics For High Dimensional Regression M-Estimates: Fixed Design Results. (with Lei and Bickel); PTRF
Random matrices and high-dimensional statistics: beyond covariance matrices. Proceedings of the International Congress of Mathematicians, Rio, 2018